Walk the origins of the Archipelago
Hiking and excursions on the island of El Hierro
El Hierro, Geopark and Biosphere Reserve
Thematic hiking routes
El Hierro, undiscovered Canaries
Spectacular lava fields
"El Hierro always so distant; so different; so small; so complex. Here anyone becomes a spectator, the landscape welcomes and envelops, from the rough sea to the gentle summit, a permanent watchtower." (Claudio J. Moreno Medida)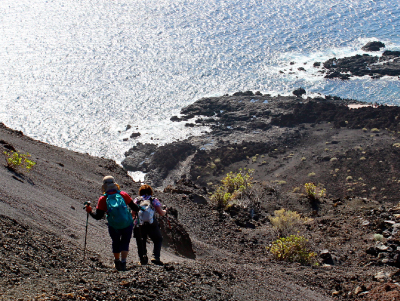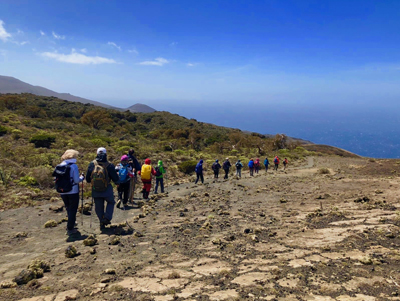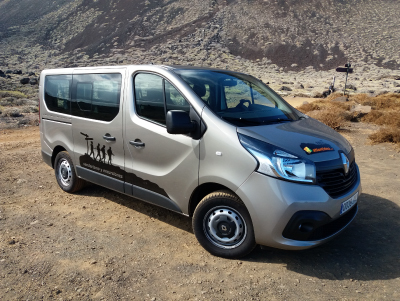 Hiking tour: El Hierro At Your Leisure
From 581€
The Canary Archipelago is located in the north part of the Atlantic Ocean, next to the west coast of Africa. It is part of the Macaronesia, a word of Greek origin meaning Happy Islands, which also includes the Azores, Madeira, Salvajes and Capo Verde Archipelagos. In the Archipelago, El Hierro is known as the Isla Chiquita (the small island), and because it continues to be far away from conventional tourist areas, it is a true paradise waiting to be discovered.
On 22 January 2000 the island of El Hierro was declared the Biosphere Reserve by the Unesco. Worldwide 710 reserves in 124 countries form an international network which includes and exceptional variety of environments and lands and offer great scenes of man and nature's coexistence.
Hi, we are Enrica and Paolo!
Our love for nature, hiking, uncontaminated areas and traveling brought us together in 2000 in the vast Libyan desert.… Together we began the journey of our life that brought us to El Hierro. It was love at first sight, just as our love was! El Hierro has completely captivated us, making us want to participate in its programs for sustainable development which includes tourism. So in 2008, the idea of sharing our enthusiasm gave birth to Atlantidea, which offers hiking tours along the island's trails and joins our experience, passion and attitude in a common project … We are looking forward to meeting you ….!
What do some of our customers think?
Have just enjoyed a fantastic three day holiday guided by Paolo. We saw so many different microclimates with fascinating and knowledgeable explanations of the vulcanology, geology, botany and history. The island is stunning, hotel very pleasant and walks superb in good company. Highly recommend a guided tour with Paolo, in three days you would never see all the stunning places and get such full information without such expert guidance.

Facebook

The excursion to La Restinga was perfect- very well done & a highlight of the trip for me. I am so glad that was offered & enjoyed meeting the knowledgeable Paolo & Enrica. They really were amazing! Paolo shared so much about the island, culture, history & geology that I really gained even more of an appreciation for the island. The hike was well done & in nicer weather would have loved to enjoy the pools. Plus if you are lucky enough to experience Enrica's meal you will not be disappointed! They were a true delight in every way, so made me feel really welcome. I highly recommend connecting with them if you visit El Hierro!

Facebook

Paolo arranged a customised excursion for us as we didn't have a hire car - it was perfect. He knew so much about the plants, animals, geology, ancient and current history and enthnography of the island. And the sites and walks he took us to / on were amazing. Highly recommended.

Facebook

Paulo was incredibly welcoming, enthusiastic and knowledgeable about El Hierro's history and its rugged volcanic geography. A great deal of fun too. Try it!

TripAdvisor


Carbon neutrality, or zero carbon footprint, is about minimizing greenhouse gas emissions. Atlantidea offsets CO2 emissions by planting 1 tree for each day of activity.